2018 Calendar: Horse, Hedges and Hounds - Dorset and Wiltshire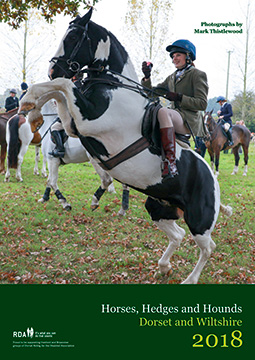 This stunning calendar features photographs of three Dorset hunts and their associated activities - the Cattistock to the west of the county, Portman to the north and east and South Dorset to the south. Also there a number of photos taken during my days out with the South and West Wilts Hunt. It is a celebration of horsemanship and beautiful countryside, of big, wide hedges and epic leaps.
Over 90 superb quality photographs
3 bonus months (starts October 2017)
A3 size
Printed on high quality paper
Spiral bound

40% of all profits from the sale of the calendar are to support Bryanston and Hanford groups of Dorset Riding for the Disables Association
---
---
Sample pages - click to see larger version.
Postage and Packing Charges
UK: 1 calendar = £3.99, 2 or 3 calendars = £4.99, 4 or more calendars = free
Europe: 1 calendar = £4.99, additional calendars = £1.95 each
Worldwide: 1 calendar = £6.95, additional calendars = £2.95 each